We the People
We the People, Cape Cod Museum of Art, Dennis, MA
March 28 - June 9, 2019

Opening Reception, April 12, 5:30-7pm
Cape Cod Musum of Art
60 Hope Lane
Dennis, MA 02638
tel: 508-385-4477
---
Red, 2018
Red 2018, Cambridge, MA
Nov 8 - December 20, 2018

Opening Reception Thurs., Nov 8, 6-8pm (both gallery locations)
University Place Gallery and Kathryn Schultz Gallery in Cambridge
Awards 7pm at University Place Gallery

Artist Talks - Nov. 29 and Dec. 13, both from 6-8pm at Kathryn Schultz Gallery
My talk will be Nov 29 at 6pm

Kathryn Schultz Galley and Offices info:
25 Lowell St., Cambridge, MA 02138
Hours: Tuesday through Saturday 11:00am - 5:00pm
tel: 617.876.0246 e-mail: info@cambridgeart.org
---
---
National Prize Show, 2018
National Prize Show, Cambridge, MA
May 17 – June 23, 2018
Ticketed Gala Preview Event May 11, 6-9pm (Click here for more information

Opening Reception May 16, 6-8pm (both galleries)
University Place Gallery and Kathryn Schultz Gallery
Awards will be presented at 7pm at University Place Gallery

Artist Talk - June 8 | 11am - 1pm at Kathryn Schultz Gallery

University Place Gallery
124 Mount Auborn Street
Cambridge, MA 02138


Kathryn Schultz Gallery
25 Lowell St.
Cambridge, MA 02138

---
Studio Visit Magazine, Fall 2018
Look for my paintings to be published in Studio Visit Magazine. It will be released this summer, volumes 41 & 42. It is a selection of International Visual Artists, juried by Lisa Crossman, Curator at the Fitchburg Art Museum. The editor and publisher is Steven T. Zevitas and the Associate Publisher is Andrew Katz. It is distributed to 2,000 galleries and curators.


---
Art Scope Magazine, Spring 2018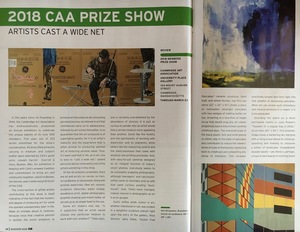 My art work is featured in Artscope, New England's Art and Culture Magazine's 12th Anniversary Issue, for March and April, 2018.